Hiya~ I've been so dolled up these past few days that I now feel pretty naked without contacts or extensions... :'D I don't wear them to school when I'm going to the gym/work/both afterwards.
First, a super random outfit pic:
Because maaaan, I love that hoodie *w* It's cute and warm. Hair looking like whatever again, though...
So, on Saturday I went to see the new
Resident Evil
movie w/
Emma
, because Milla Jovovich rocks and kicks some major zombie ass. ♥ (First there was Shibuya, which went kaboom, and then there was Los Angeles, which had already gone kaboom. They ruined every place I love! XD Excluding Prague - and Finland, of course. Finland usually goes untouched in American movies.)
While I was sitting at the Railway Station waiting for Emma, I noticed four young Chinese people standing nearby, glancing my way with a map in their hands. I figured they were lost tourists and asked if I could help, and explained how to get to Kamppi so they could catch their bus to Turku. Then they suddenly asked if they could take a picture with me! I was like "... :o" and probably came off as a really smart person, but we took a couple of pictures, and just when I was writing down my email add so they could contact me, Emma joined us, and the two girls in the group practically dropped their eyes because she was so gorgeous. XD More picture-taking ensued. It was really weird, nothing like that ever happens to me, and I was so flattered >3< Plus they were really sweet and kind. ♥ The guy who took the photos actually contacted me through Facebook the next day. :D They'd been to Tallinn and had missed their train back to Turku.
Then, on Sunday: the
3rd Gal Meetup
!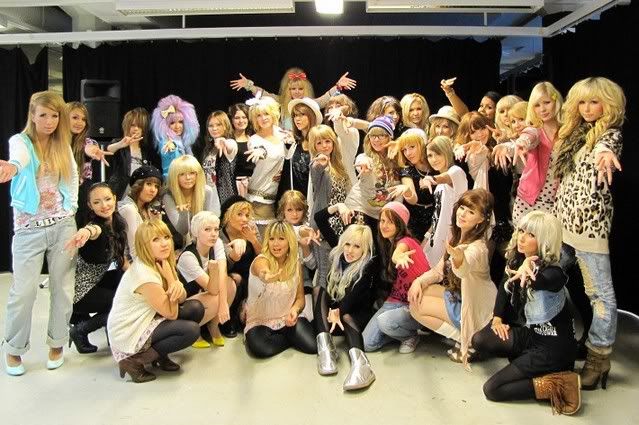 (This photo was taken with my camera, and within the ten hours it had been in web, someone was quick enough to edit it by circling four of us with red and posting it in gyaru_secrets with a "out of all these gyarus only a few did something to their hair. Did you all have a bad hairday or something?!" I felt like my photo had cheated on me, lol XD)

Since it was the first I attended, I was ridiculously nervous about everything and I think I talked a bit too much. But everyone was so cool and beautiful, I felt like a total noob! Luckily they were also very sweet and easy to get along with, and everyone took me into their discussions and all. I didn't feel left out at all ♥
My hair kind of went flat sometime between my home and Happi, but I still got a few compliments so I guess it wasn't awful :3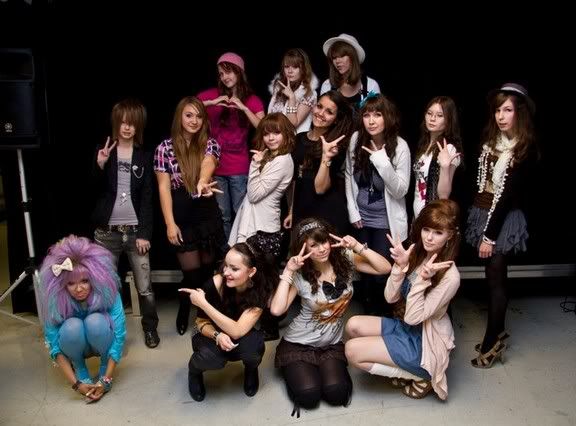 The Meetup divided in two: Pt. 1, the Brunettes ft. Pin who couldn't decide which photo to be in :'D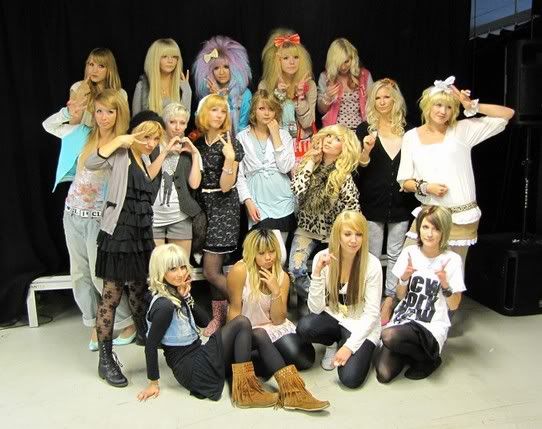 Pt. 2, the Blondetourage ft. Pin. :D Photo taken by Amanda, I think.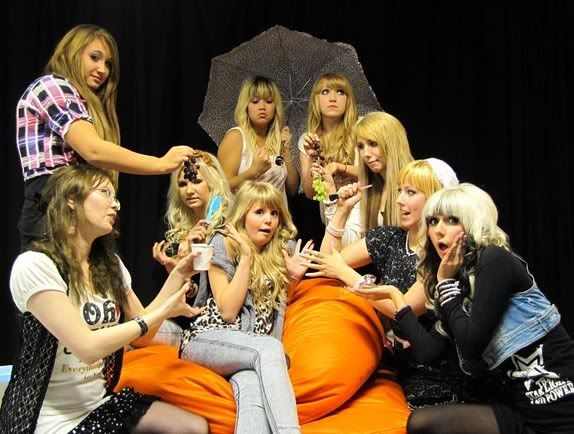 Then we were divided into groups and told to decide on a theme and take a picture together. Ours was the court of a princess. This is an offshoot picture, so it doesn't look very princess-y. XD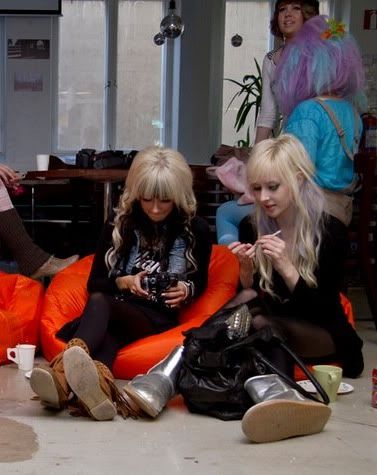 Me and Marinka lounging with Pin and the Hat Girl (Anni? Most of the girls were all new to me, so I only remember a few by name, I'm sorry ;___;) in the background. Photo taken by Satu :3
I have a zillion more photos because as usual, I went paparazzi all over the meetup, but I think I'll leave it here. For more, check out our
FB page
! ♥ I had a great time, thanks to everyone who attended - I was worried I'd be so bored/intimidated that I'd have to leave in the middle, but I ended up being one of the last ones to leave - and I'll def be back for November's Halloween meetup!